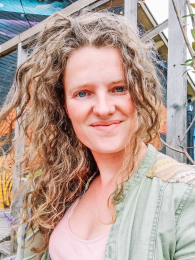 The expert
I am Cornelia and I wrote this eBook to help you become the best version of you. Being healthy, having the capacity to do what you love is so important and it is sad if overwhelm stops you from that.
To me the most important thing is to create a better world together. I believe that you and I as entrepreneurs have a lot of positive influence in this world. As a trainer in practical psychology (NLP, Neuro Linguistic Programming), I know a lot of simple techniques to make it so much easier to become and stay successful.
In this book I share the most important one. The technique that will help you get rid of overwhelm, of feeling stuck in the moment, of feeling so anxious nothing is happening anymore. The feeling that stops you from getting things done and being the awesome entrepreneur you are.
With this technique you can
Transform anxiety to a neutral state, stop the stream off thoughts in your head and find a sense of peace
Easily start the most scary task in your business like filming yourself or going after that one client
Stop procrastination and start doing the annoying, "I like to avoid these but I can't" -tasks like doing your finances